Welcome to Sam's Mountain View Resort & Hotel, People also call it Sams Rock resort. an idyllic retreat nestled in the scenic surroundings of Purok 3, Maria Clara, Diffun, Philippines. This cozy and welcoming resort offers a peaceful escape from the hustle and bustle of everyday life, with breathtaking mountain views and tranquil settings Expect uphill and downhill terrains.
A day of relaxation at our resort is priced at a reasonable rate of 130 pesos for adults and 100 pesos for children. We offer a range of cozy cottages, with prices ranging from 700 to 2,000 pesos, depending on the capacity. However, please be aware that we do charge a corkage fee for outside drinks.
When planning your visit, remember to pack your proper swimming attire, as we strictly enforce appropriate swimwear in our pool area for the comfort and safety of all our guests. While we warmly welcome your furry friends to our resort, we kindly ask that they refrain from joining you in the pool.
For those wishing to extend their stay, Sam's Mountain View Resort & Hotel also boasts a range of comfortable hotel rooms. With superior and deluxe options available, we cater to solo travellers, couples, and families alike. Craving a bite to eat? No worries, we've got you covered with our mini cafe.
Not just a resort and hotel, we are also the perfect venue for special events. Whether you are planning a birthday party, seminar, wedding, christening or any other special occasion, our functional halls are here to cater to your needs. Please don't hesitate to get in touch with us for a quotation.
Our resort operating hours are from 9:00 am to 5:00 pm. Please note that overnight swimming is not allowed.
Please be aware that the mobile network signal at the resort is low, so we don't recommend calling us via mobile. Instead, you can reach us on our landline at 078-374-0580 or via email at [email protected]. You can also visit our Facebook page for more information and updates: https://web.facebook.com/samsmountainview.
Come and experience the tranquility and serenity at Sam's Mountain View Resort & Hotel. We can't wait to welcome you!
Here are some photos and videos taken by SPY Aero drone last 2020. They are still on construction and on continuous improvements of services and facilities. Enjoy and be adventurous!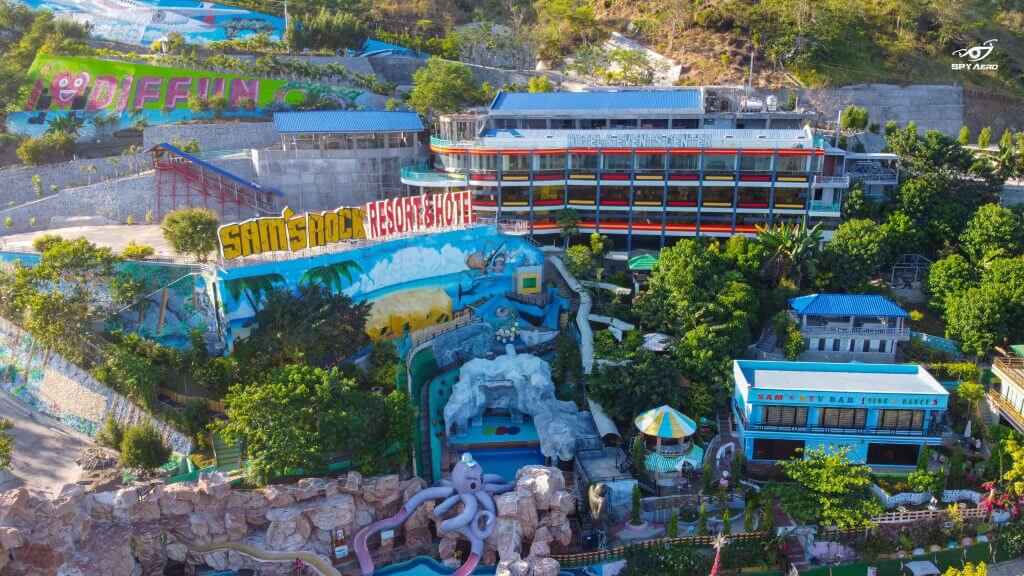 Watch Video of Sam's mountain view resort
Have you ever visited Sam's Mountain View Resort & Hotel (Sam's Rock)? How is your experience? Leave a comment below.